Well folks, we are down to the final playoff weekend before the Super Bowl. New England took care of business at home against Kansas City & Denver found a way to defeat Pittsburgh. I know Peyton Manning gave the gameball to Demaryius Thomas who then gave it to his mother (who was incarcerated since he was a young boy). However if the 3Guys are handing out gameballs it should go to Brandon McManus who went 5 for 5 in field goals to keep the Broncos relevant the entire game.  On the NFC side, Seattle & Carolina turned out to be an interesting match-up with Seattle's horse and carriage finally turning back into a pumpkin after what was a valiant comeback try being down 31-0 after the 1st half. And last but not least we had a thrilling game in Arizona come down to another Aaron Rodgers Hail Mary heave into the endzone for a TD:
Only this time it didn't end with a win like it did against the Lions.  Instead Larry 'Legend' Fitzgerald won the game, mainly in part to this incredible effort in OT: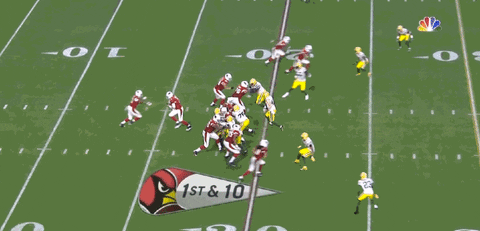 Below is our 2nd to last bracket, our picks with the spread, and our over/under predictions!  Enjoy the games and good luck!
Sunday, Jan 24th
Jeremy:

#2 NE (-3) @ #1 DEN – over/under (44) – NE/Over
#2 ARI @ #1 CAR (-3) – over/under (48) – ARI/Under

Zac:

#2 NE (-3) @ #1 DEN – over/under (44) – NE/Over
#2 ARI @ #1 CAR (-3) – over/under (48) – CAR/Under

Jose:

#2 NE (-3) @ #1 DEN – over/under (44) – DEN/Under
#2 ARI @ #1 CAR (-3) – over/under (48) – CAR/Over